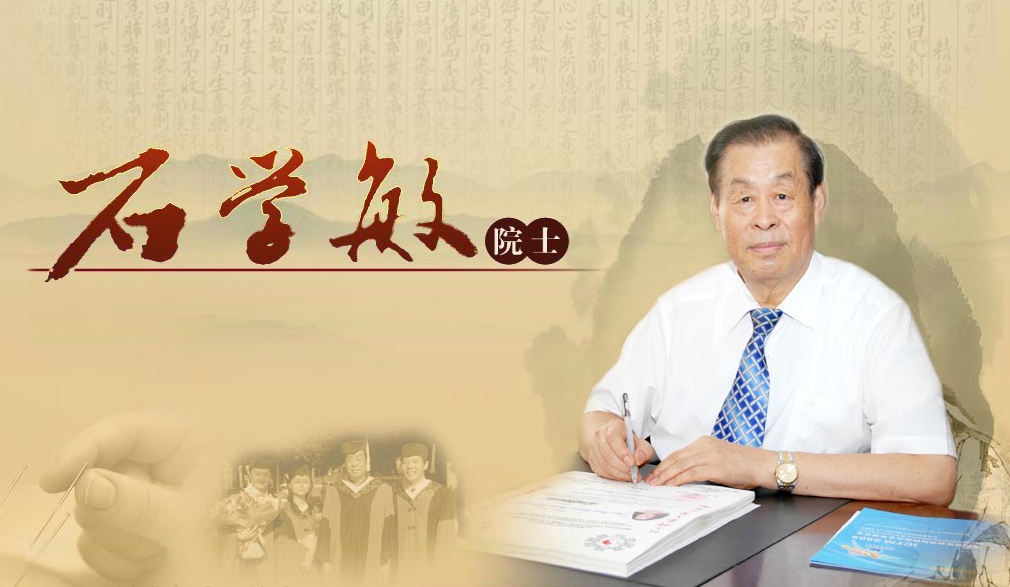 石学敏院士
  Academician SHI Xuemin
  Ø 中国国医大师
  Master of Traditional Chinese Medicine
  Ø 中国工程院院士
  Academician of Chinese Academy of Engineering
  Ø 教授、主任医师、博士生导师
  Ø Professor, chief physician, doctoral supervisor
  Ø 天津中医药大学第一附属医院名誉院长
  Honorary president of First Teaching Hospital of Tianjin University of Traditional Chinese Medicine
  国务院政府特殊津贴专家
  Expert enjoyed special subsidy conferred by the State Council
  Ø 国家卫生部有突出贡献中青年专家
  Ø Young and middle-aged expert with outstanding contributions by the Ministry of Health
  Ø 中国针灸学会高级顾问
  Senior advisor of Chinese Academy of Acupuncture and Moxibustion
  Ø 天津市授衔针灸学专家
  Expert of Acupuncture and Moxibustion conferred by Tianjin Municipal Government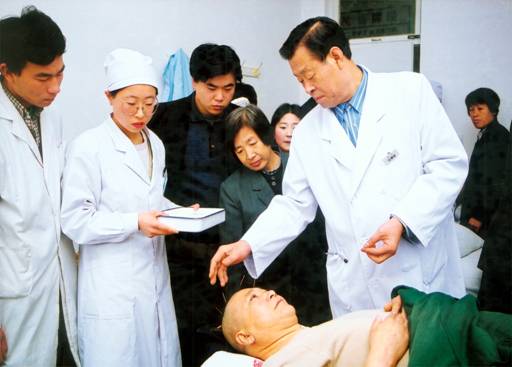 石学敏院士是天津中医药大学第一附属医院针灸学科带头人,从事针灸学和老年医学的临床、科研以及教学工作已愈50余年。从70年代初开始研究世界公认的三大疑难病之一的中风病(脑梗死、脑出血)的针灸治疗,创立"醒脑开窍"针刺法,开辟了中风病治疗新途径。80年代初创建的"针刺手法量学",填补了针灸学发展的空白,并广泛应用于多种疑难杂症的治疗中。先后发明"脑血栓片"、"丹芪偏瘫胶囊"等药品,再结合"醒脑开窍"针刺法针药并用,创立了"石氏中风单元"疗法,为治疗脑血管病开创了新的思路。
Academician SHI Xuemin is the leader of Acupuncture and Moxibustion Discipline of First Teaching Hospital of Tianjin University of Traditional Chinese Medicine. He has been engaging in the clinical treatment, scientific research and teaching on Acupuncturology and gerontology for over 50 years. He started to do the research on the treatment of stroke (cerebral infarction, cerebral hemorrhage), which is recognized as one of the most three difficult diseases in the world by the method of acupuncture and moxibustion since 1970s. He invented "Xing Nao Kai Qiao" therapy (activating the brain and opening the orifices), which opened up a new method for the treatment of stroke. In 1980s, he firstly put forward the quantity theory of acupuncture manipulation, which filled up the vacancy of development of acupuncturology. This manipulation is widely applied in the clinical treatment for many kinds of difficult diseases. He developed medicines of "Nao Xue Shuan Tablet" and "Dan Qi Pian Tan Capsule" and so on. Furthermore, he created "Shi's Stroke Unit" therapy, which is the method of integrating "Xing Nao Kai Qiao" therapy and Chinese herbal medicine. It opened up a new thinking for the treatment of cerebral vascular diseases.
  共主持完成包括国家973项目在内的科研课题40余项,其中获国家科技进步奖1项,省部级科技进步奖33项(次),国家教委及天津市教学成果奖3项,获国家专利6项。共培养国内外硕、博士、博士后300余名,发表论文百余篇,出版《中医纲目》《脑卒中和醒脑开窍》《石学敏针灸学(英文版)》等著作50余部。
Professor SHI has directed and completed over 40 projects of scientific research including National 973 Plan. He achieved 1 progress award on the state level, 33 progress awards of science and technology on the ministerial and municipal levels, 3 awards of teaching result of State Education Commission of Tianjin Municipality and 6 patents on the state level. He has trained more than 300 students with master degree, doctoral degree and post-doctoral degree from China and all over the world. He has published over 100 papers. Moreover, he published over 50 books, including Detailed Outline of Traditional Chinese Medicine, Stroke and Xing Nao Kai Qiao Therapy, SHI Xue Min's Acupuncture and Moxibustion (English version) and so on.
  l999年当选为中国工程院院士,2000年获何梁何利基金科学与技术进步奖,2001年获香港求是科技基金会杰出科技成就奖,2006年荣获中华中医药学会"首届中医药传承特别贡献奖",2008年荣获世界中医药联合会"中医药国际贡献奖",2014年当选第二届"国医大师",2016年荣获中国针灸学会"中国针灸传承贡献奖"。
He was elected as academician of Chinese Academy of Engineering in 1999 and he won the progress award of science and technology from He Liang He Li's Fund in 2000. He won the outstanding achievement award of Hong Kong Qui Shi Fund of Science and Technology in 2001. He also won the first special contribution award of inheriting and developing TCM on the first high level forum of inheriting and developing the learning of famous experts of TCM held by Chinese Academy of Traditional Chinese Medicine on December 2006 and international contribution award of TCM by World Federation of Chinese Medicine Societies in 2008. He was elected as the Master of Traditional Chinese Medicine in 2014. And he won "Contribution of Inheriting Acupuncture and Moxibustion Prize" of Chinese Academy of Acupuncture and Moxibustion in 2016. A